back to news
May 13, 2020
A Blue Sky for Tomorrow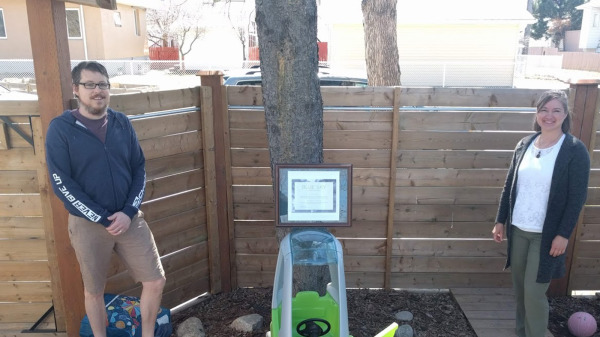 The Spring 2020 Blue Sky Award program is now over - and Manasc Isaac would like to thank you for your interest in aiding Albertan non-profits during this time of need. The submissions we received for this round of our Blue Sky Architecture Award were compelling: we are continually impressed by the work that our non-profit community does. Thank you!
We are pleased to reveal this season's Blue Sky Award winner: Tomorrow Foundation for a Sustainable Future (TFSF), a 50 year old Edmonton charity focused on tackling pollution and planning out a low-carbon, green future for our community. Pictured above is TFSF Treasurer Conrad Nobert and TFSF ED Julie Kusiek, presented with 2020's Blue Sky Award - social distancing style!
TFSF will receive $10,000 worth of Planning and Design Services to help achieve their vision of a demonstration project: a carbon-negative net-zero laneway house.
Our team believes the future is net-zero, and this exciting project also aligns with Manasc Isaac's commitment to the 2030 Challenge, whose goal is to see all new buildings carbon-neutral by 2030.
Stay tuned for updates on our collaboration with Tomorrow Foundation!
If your organization was not selected this season, or if you are an Albertan non-profit located in Southern Alberta, please stay tuned for future installations of the Blue Sky Award!