back to news
November 26, 2018
Calgary Real Estate Forum 2018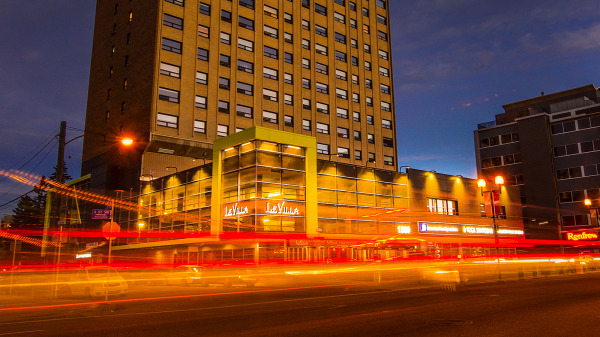 The Manasc Isaac team was pleased to attend the Calgary Real Estate Forum earlier this month. This event is a crucial component of the ongoing dialog about the opportunities and challenges that impact the city's real estate market and its stakeholders.
One conversation, which is of particular interest to us, is how Calgary will respond to historically high vacancy rates in the office market. Organizers assembled a selection of panelists for a session called "It's What's on the Inside That Counts: Adaptive Ruse, Repositioning and Transformation of Vacant Space," to explore how various stakeholders – Architects, Developers, and municipal bodies – are devising innovative solutions to reposition yesterday's office spaces for future Calgary.
Moderated by Tracy Taylor Fullerton (Managing Director, Calgary, Cushman & Wakefield), the panel included:
Bruce Abugov (Principal, Abugov Kaspar Architecture Engineering Interior Design)

Syl Apps (Managing Director, Hines)

Amie Blanchette (Manager, Partnership Services, Planning & Development, City of Calgary)

Ken Toews (Vice President, Development, Strategic Group)
HIGHLIGHTS
One of the threads which ran through each of the presentations, and quite perfectly aligns with Manasc Isaac's approach to #reimagine, is that adaptive reuse should be viewed holistically; there are many elements connected to each project. For example, for Strategic, a developer, partnering with the City of Calgary has created symbiosis, facilitating a more creative approach as well as a reduction in the timeframe of approval processes.
The need for a holistic approach was further reinforced by Abugov Kaspar's presentation, which highlighted the firm's effort in making the connection between architecture and the urban context as seamless as possible, by interfacing with civic urban planning policies. Indeed, adaptive reuse should entail consideration of densification, urban renewal, property value/tax revenue, and community impact.
Hines' presentation also took context into consideration, and recognized the question of Tradition vs. Technology, Old vs. Young in treating their assets.
On the City of Calgary side, it was refreshing to hear that the City has made such strides toward mutually beneficial partnerships with their partners (customers, citizens and community). As green building pioneers, Manasc Isaac has experienced the unfortunate phenomenon that innovative, cutting-edge ideas are often hindered by red tape. By streamlining reimagine projects, with a dedicated process for both simple and complex retrofits, the City seems to be trailblazing in the way that they collaborate with architects, developers and building owners to expedite the evolution and implementation of creative ideas. This is a practice that could be replicated in many cities across North America, who faces the question of how to reimagine their aging office towers.
Another thread that was woven through the panel discussion was sustainability. This is, of course, music to Manasc Isaac's ears! Our own strong internal focus on adaptive reuse, as embedded in the #reimagine initiative, is rooted in our desire to address existing buildings in a way that treads lightly on the earth, and respects the financial, social and environmental investment that existing buildings represent. In a culture that's often overcome by a tear-it-down-and-build-new mentality, it is refreshing to hear that our colleagues have taken great steps to join us in managing these existing building's resources. Hines' approach toward encapsulating carbon, and reducing greenhouse gases (GHGs) and energy consumption was mentioned, and we'd love to know more about this process (and to expand on the potential benefits to all of the project's stakeholders).
NEXT STEPS
Like any good catalyst for dialogue, our team was left inspired and full of questions about how to take these ideas further, and connect them to our work.
We'd love to see a follow-up session that dives into the "how" of the projects used as case studies, exploring how, for example, Hines' GHG and energy reductions were achieved and calculated (and how this data can be used by the other stakeholders on the project).
We'd also love to know more about Strategic's technique for office conversion – specifically, how the viability of a conversion is determined, and what a rubric for various types of conversion options (such as commercial to residential, etc.) might look like.
Each of these questions shares a desire to move to the "how" of the conversation – and we look forward to the next Real Estate Forum, in order to keep the dialog moving!
---
To learn more about this event, and view the presentations by the session panelists, visit RealEstateForums.com!