back to news
March 31, 2016
On Chasing Net Zero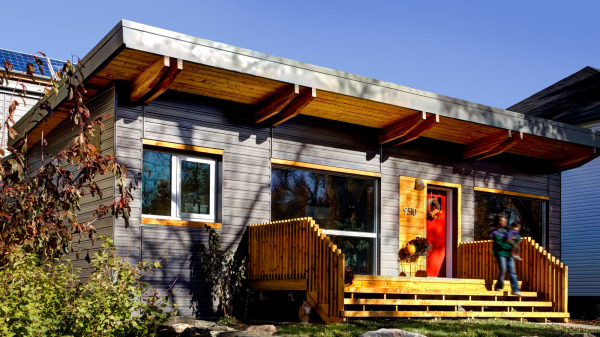 At Manasc Isaac, we are always chasing – chasing after sustainability, chasing after beauty in design, and most importantly, chasing after a brighter future for both other people and our planet. Over the years, this perpetual motion has enabled us to achieve many significant "firsts," including the first-ever LEED® certified building in Alberta.
Net-zero buildings are the next generation of sustainable design, and one of the goals we are currently chasing. Defined as buildings that produce as much energy as they consume over the course of a year, these structures rely on smart design, innovative technologies and a pioneering spirit to come to fruition. The net-zero craze is taking off and going mainstream; Manasc Isaac was even brought on board to help a residential developer design net-zero homes for their clients!
As this momentum is building, we recognized that this is a perfect time to take the net-zero gospel to the streets and educate the public about building these types of homes.
David Dodge's Green Energy Futures emerged as the perfect partner to tell this story. Highlighting sustainable successes that fly under the radar of conventional media, the Green Energy Futures series uses webisodes, podcasts and blog posts to reach a large and varied audience, all of whom are keen to learn about the latest in green innovation.
The result of this collaboration is Chasing Net Zero, a four-part series that educates about net-zero buildings, and celebrates Edmonton as a centre of net-zero design excellence. Featuring several Manasc Isaac projects such as Shafraaz Kaba's Beverly Heights House and the Mosaic Centre for Conscious Community and Commerce, the series was recently published at the Huffington Post and we are happy to see the conversation about this building approach taking shape!
Be sure to check out each of the four episodes below, and stay tuned for a Chasing Net Zero event and panel discussion in Fall 2014.
This is the first episode of our four-part mini-series called Chasing Net Zero. These solar powered, energy efficient homes generate as much energy as they consume in the course of the year and they're making a big splash across North America. In our first episode we dive into the history of net-zero homes and figure out you can build one of these comfortable, beautiful homes that also doubles as a mini-powerplant.
Building a net-zero home is an intricate dance between design, engineering and location. Learn how designers can make your home more beautiful and more energy efficient even if it doesn't go all the way to net-zero. Conversely we wouldn't be talking about net-zero homes if there weren't groups and people pushing the envelope. This week we explore the balance between design and technology when it comes to net-zero homes.
Net-zero homes have come a long way. In about 10 years they've gone from government pilot project to mass production. Shafraaz Kaba's near net-zero home is an excellent example of how we got there. This week we explore his family's beautiful home and the lessons learned from designing and building it.
All net-zero by 2015? As these ideas have been worked on and perfected other, larger home builders are picking them up. Landmark Homes is vowing to mass-produce net-zero homes in their large, state-of-the-art house factory by 2015 and they have already built 18 net-zero homes.
Photo courtesy of David Dodge, Green Energy Futures