back to news
May 17, 2016
Edmonton Reimagined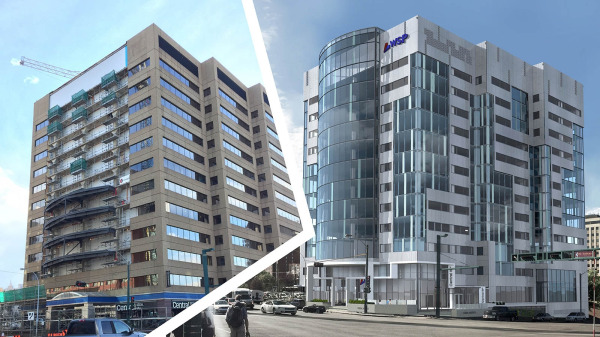 On May 12, our team joined the Edmonton Real Estate Forum for a conversation about the city's commercial real estate market. We were particularly inspired to learn that even given our current economic climate, we can anticipate many opportunities to leverage our reimagine expertise in Edmonton. Our city's aging building stock includes outclassed, outdated and several vacant or soon-to-be-vacant buildings or that must undergo recapitalization.
WSP Place (10909 Jasper Avenue) is one example of a tower experiencing a renaissance at the hands of the Manasc Isaac design team. Currently under construction, we have upgraded this 1970s building's mechanical and electrical systems, wrapped it in a sustainable and beautiful new facade, and reinforced its place in the urban landscape as the gatekeeper of a prominent downtown intersection. And the best news of all? WPS Place's renovation is occurring with tenants remaining in the building, avoiding costly interruptions. Over the years, we have learned how to phase our reimagine work in a way that minimizes disruption for owners and tenants.
Other buildings may be repositioned entirely; current office towers could be reborn as hotels or residential developments, for example. The sky is the limit when you use your reimagination.
Do you have questions about the future of your investment? Could your aging building benefit from recapitalization or repositioning? We'd love to look at it and help you reimagine its future.