back to news
September 12, 2023
Métis Futures Through Land-based Architectural Research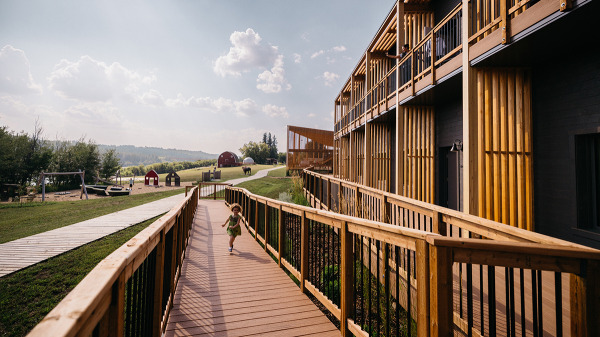 Reimagine is thrilled to pass the mic - or the keyboard, as it were - to our own Robyn Adams: a designer, and dual Master of Architecture/Master of Landscape Architecture at UBC. Please enjoy her guest blog post: Métis Futures Through Land-based Architectural Research, and be sure to read her full bio at the end!
---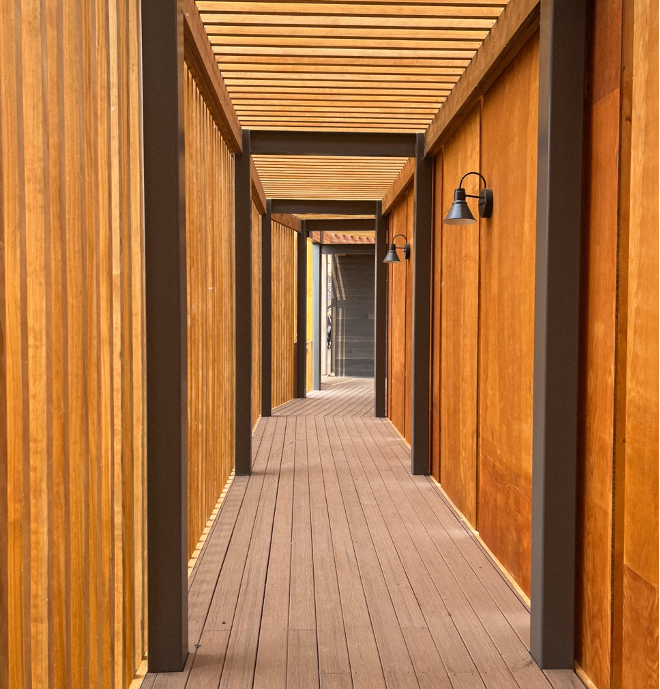 Taanshi, dishinikawshon Robyn Adams. Michif Niiya. Winnipeg, Manitoba d'ooshchiin maaka Vancouver niwiken, noo li moonaywikaashoo tayryn di xʷməθkʷəy̓əm, Sḵwx̱wú7mesh, Sel̓íl̓witulh Nations.
Hello, my name is Robyn Adams. I am Red River Métis from Winnipeg, Manitoba and currently living in Vancouver on the unceded land of the xʷməθkʷəy̓əm, Sḵwx̱wú7mesh, Sel̓íl̓witulh Nations. I am a dual Master of Architecture and Master of Landscape Architecture student at the University of British Columbia. Since January I have been working as a Designer with Reimagine Architects and Reimagine Gathering from the Vancouver office. During my master's at UBC, I have been researching the conversation between land and water in relationship to architecture through the intricate weaving of Indigenous knowledge, ceremony and art.
With support from the Manitoba Arts Council, this summer I got to travel to Métis Crossing located on Treaty 6 territory — the traditional and ancestral territory of the Cree, Dene, Blackfoot, Saulteaux, and Nakota Sioux. I acknowledge that this territory is home to historic Métis Settlements and the Métis Nation of Alberta, Regions 1, 2 and 4 within the Homeland of the Métis Nation. This grant also supported me to bring Métis Architect Tiffany Shaw, and my mother Myrna Adams to Métis Crossing. I especially want to thank Tiffany Shaw for introducing me to Elder Lily Rose, who I was able to interview for my research.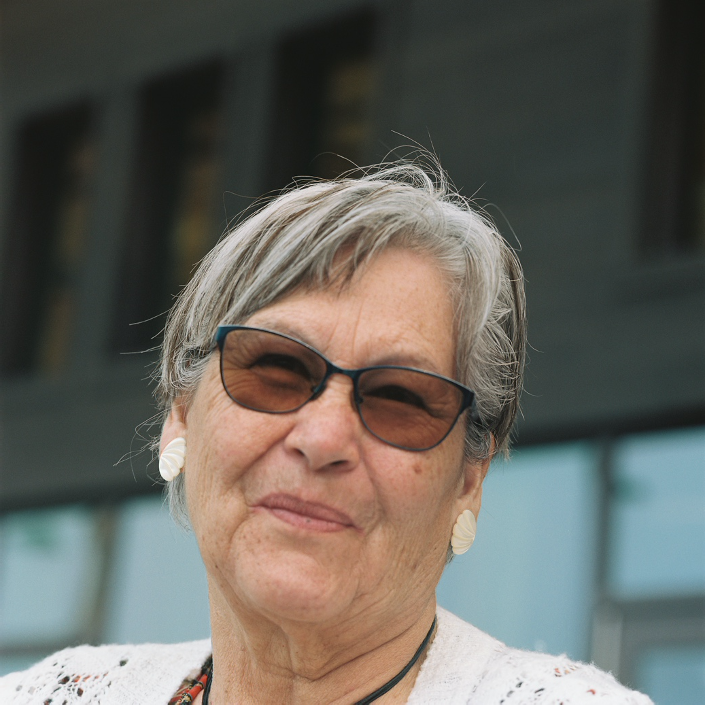 Métis Crossing was an important landmark for me to visit for my research because it's the first time I felt seen in contemporary Métis Architecture. Before working at the firm, I knew the design was authentic because it felt like I could see my cultural identity in the building's design, and it was incredibly rewarding to know there was a space specifically designed with Métis people in mind. Engaging in land-based activities such as a bison enclosure tour, foraging through artmaking and visiting the historic cabins at Métis Crossing and Victoria Settlement were important ways I was able to connect to place and culture. The interview with Lily Rose and conversations with Tiffany Shaw and Breena Johnson really shed light on design decisions that the team at Reimagine Architects made for the Gathering Centre and the Lodge in relationship with community and the land.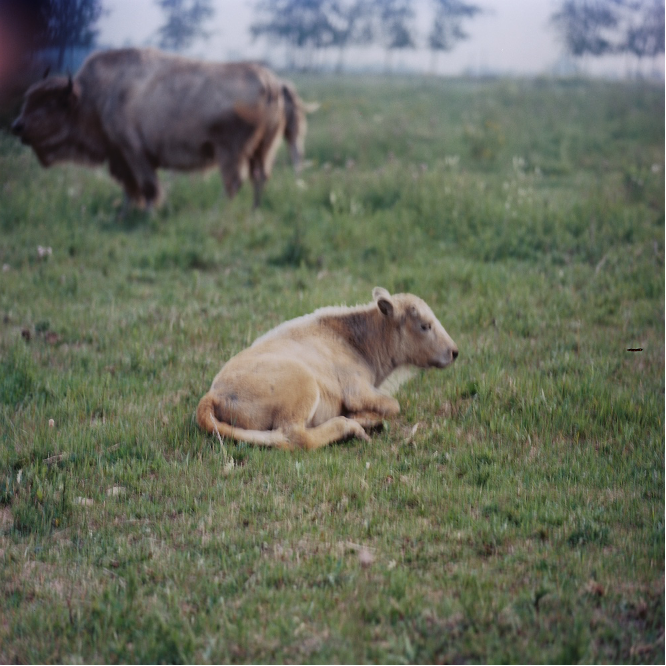 On the Bison tour, Breena told us this captivating story of how the Métis bison hunters would bow hunt on horseback, and they would drop a piece of their family's beadwork (like gauntlets or a firebag) when they hunted bison to mark it so others wouldn't think it was theirs. Because each family has distinct beadwork patterns this would communicate to the community that this bison belonged to a certain family, and then the bison hunter could continue hunting while the women or other family would process the bison for use and food. This is an example of how integral Métis traditions are to family, craft, and land-based activity.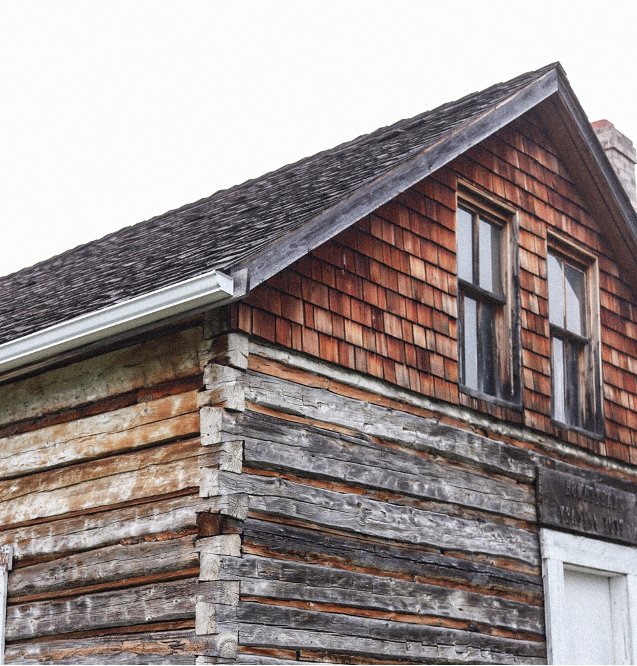 'It's very important to feel comfortable, and that's why people feel so comfortable here (at Métis Crossing). There's a connection here that people feel when they see the tea tables, they see artwork and the silly old bison at the door. It's how we would decorate our homes,' says Elder Lily Rose. 'I grew up in a home like these, Métis homes are different than other homes, we didn't have all those little rooms.'
Lily Rose is referencing how the Gathering Centre has a large multi-use room inspired by the design of historic Métis one room cabins. She also drew attention to the gardens, and plants in the area. 'They're not weeds to us, they're part of our tea that we gather on the land, like fireweed, we need those things… We are root vegetable people here. We had a root cellar under the cabin, and on the bank. That's where you keep your vegetables. A couple bins, and shelves with canning…As soon as you have a hill, it's utilized.' She continued speaking about different plants, including carrots, potatoes, peas, saskatoon berries and raspberries. Hearing about how the cellar or shed was along the riverbank was new to my research.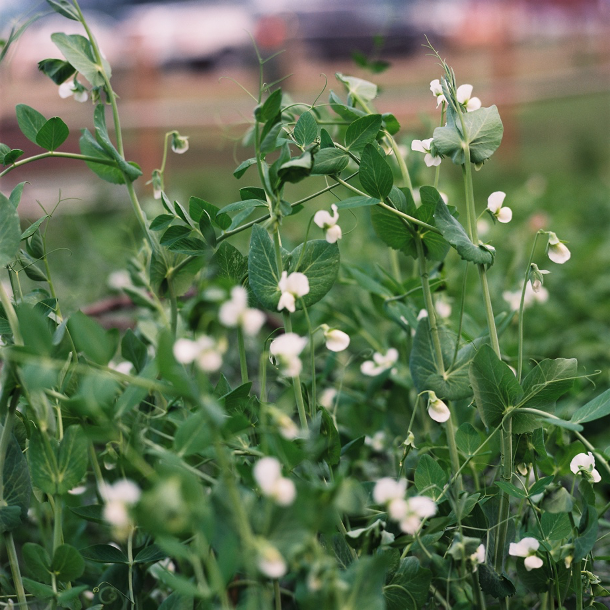 Back in Manitoba the Historic Métis Cabins connected to my family and other Métis families in the region seem to have a lean-to shed which acts as an extension of the kitchen added onto the exterior of the cabin. This style can be seen in the historical Red River Framed cabin, the Clerks House, at Fort Victoria Settlement. The Clerk's House's architecture design, completed in 1865, follows the poteaux sur sole (post in sill) construction with an additional lean-to kitchen which is designed with the pièce sur pièce (squared log construction) of the Red River Frame Design.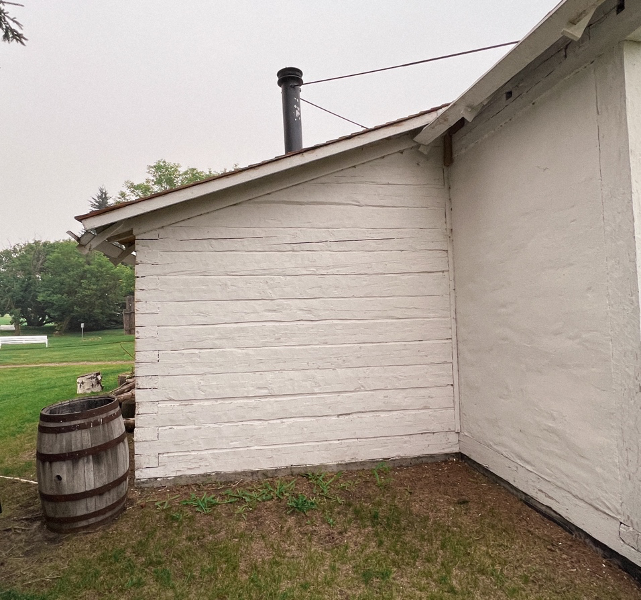 These two different construction methods are important to note for the Victoria Settlement cabins because they were built by former Manitoba Métis who settled in the Victoria Settlement in the mid 1800's. The Historic Métis cabins at Métis Crossing however, are designed late in the 1800's with additional contextual knowledge of the riverbank and valley landscape which highlights dove tail joinery and utilized the cooler temperatures near the Saskatchewan River at the end of River Lot 12 for the Root Cellar Shed. Tiffany Shaw highlighted the Dove Tail joinery in multiple spaces around the Gathering Centre and Lodge.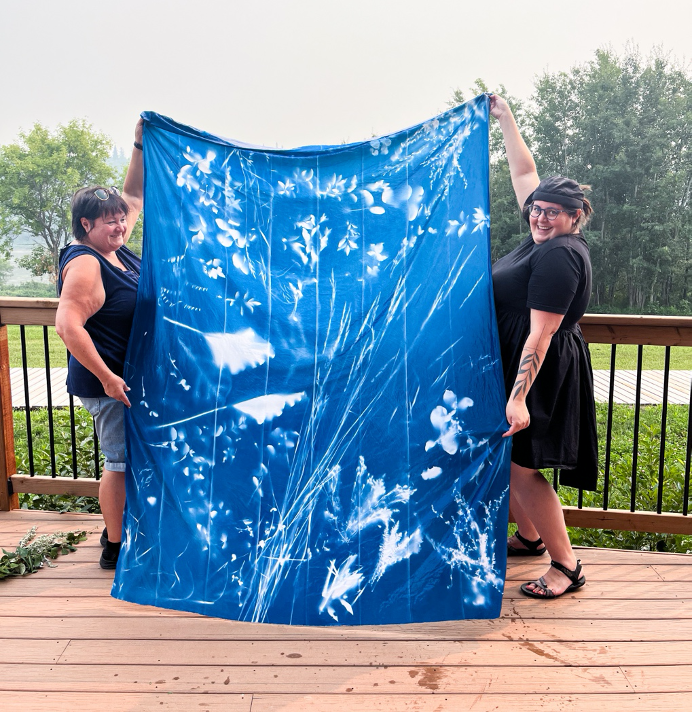 Finally, outside of the Lodge on the deck, I got to make artwork supported by the Manitoba Arts Council. Together, Tiffany Shaw, Myrna Adams, Vivian Manasc and myself collected native plant clippings from around the Lodge and layered them onto pre-painted fabric with cyanotype treatment. Creating this artwork was incredibly rewarding to get a more tangible relationship with the plants and have a token from my time at Métis Crossing.
---
Michif Biography
Robyn Adams si t'in sitwayayn Michif di la Rivyayr Roj. Sa famiyl Michif y vyin di la Rochelle ipi St Pierre-Joly, Manitoba. Akchewelmen ayn dowb Mitres di Arkitekchur ipi in Arkitekchur di paysaj a l'University di British Columbia, Y li in inviti sur li teritwayr non sidi di li xʷməθkʷəy̓əm, Sḵwx̱wú7mesh, Sel̓íl̓witulh. Si t'in archis multidisiplinayr ki aym payshi, ki ramans di medikamen, beading, ipi fayr tot sort d'afayr avek si min. Robyn son ovraj s'inskri en synkronism dan l'ethos di la kaliti di vi d'Audre Lorde son "kaliti di vi", ivo ki interof li rapor a la tayr ipi a d'lo a travayr li weaving di knowledge otokton, di l'art ipi di l'arkitekchur di seremoni. Avek Reimagine Gathering, Robyn y sharsh a kryi in arkitekchur di jway powetchik, o koti di matryark ki l'on kontribuwi a kryi in senchimen d'apartenan powr li komunoti otokton a travayr li ten sonb afin kon ni kapab trasi di shmin l'bor d'in miyewr futchur.
English Biography
Robyn Adams is a Red River Métis citizen of the Manitoba Métis Federation. Her Métis family is from la Rochelle and St. Pierre-Joly, Manitoba. Currently a dual Master of Architecture and Landscape Architecture student at the University of British Columbia, living as a guest on the unceded territories of the xʷməθkʷəy̓əm, Sḵwx̱wú7mesh, Sel̓íl̓witulh. She is a multidisciplinary artist who enjoys fishing, medicine picking, beadwork, and making things with her hands. Robyn's work synchronously exists in the ethos of Audre Lorde's 'quality of light,' in which she interrogates relationship with the land and water through the intricate weaving of Indigenous knowledge, ceremony, art and architecture. With Reimagine Gathering, Robyn seeks to create architecture of poetic joy, alongside the matriarchs that have helped steward a sense of home for Indigenous communities through the dark times so that we may be able to forge paths into brighter futures.