back to news
February 7, 2017
Meet Our New Partners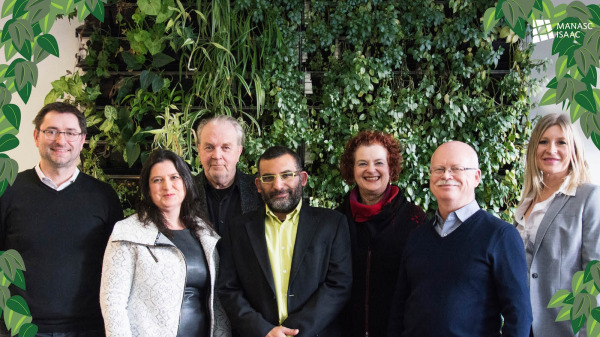 [Photo, L-R: Mike Turner, Rita Melo, Richard Isaac, Shafraaz Kaba, Vivian Manasc, Derek Heslop, Lindsay Gurevitch]
In 2017, Manasc Isaac celebrates 20 years of designing a better future for our community - one green building at a time.
Founded in 1997, Manasc Isaac woke up the design community to the industry's need to address climate change, and to raise awareness of the need for sustainable, beautiful buildings.
The adventure has been an exciting one, with many "firsts" along the way: first LEED building in Alberta, first LEED Silver in Edmonton and first LEED Gold north of the 60th parallel. Architects from around the world came to learn about sustainable buildings from us, and our team grew.
As our family grows, so does the need to expand our leadership. We are happy to announce two new partners to helm our firm: Rita Melo, and Lindsay Gurevitch.
Rita Melo, M.Arch., MRAIC, LEED®AP BD+C: Designer, Project Manager
Originally from Brazil, Rita has been working with Manasc Isaac Architects since 2007. Having worked on projects such as the Eastgate Environment Canada Office Building, Servus Credit Union Corporate Headquarters and Stony Plain High School, Rita's expertise spans institutional projects, public buildings, commercial buildings and residential projects. Rita's recent projects include the reimagined 1970s office tower, WSP Place in downtown Edmonton, and PCL's recently completed headquarters, Building One.
Lindsay Gurevitch, AAA, B.ID, NCIDQ, LEED®AP: Interior Designer
A graduate of Mount Royal's Interior Design program, with a background in psychology and visual fine arts, Lindsay both designs projects, and manages our Calgary office. Incorporating an understanding of psychology in spatial contexts, as well as an understanding of the visual arts into her designs, Lindsay's work seeks to develop stronger user connections with their immediate surroundings. Lindsay's recent work has transformed Calgary's office spaces for clients such as Myntex, Ferguson Glass and Flotek.
Here's to co-creating a better future with you!