back to news
December 10, 2020
Merry and Bright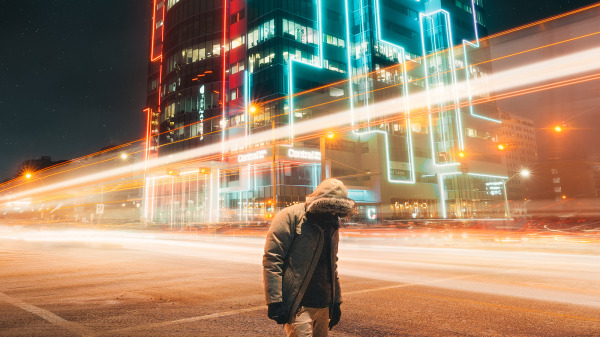 What can we say about 2020? As we collectively process and cope with the ongoing challenges that this year has posed, we want to take a moment to reflect on that which we are grateful for.
First, we are grateful for you. Your continued support of our work and our team means the world to us. We are thankful that 2020 allowed us to continue our mission of reimagining the world with architecture, creating healing and joyful spaces. We are especially honoured to be collaborating with over a dozen First Nations, Métis and urban Indigenous partners to design and build new gathering spaces, towns, enterprises, schools, colleges, and other environments for learning, health and healing.
We are thankful for the gift of design, a practice that allows us to shine light into the darkest moments. Pictured above is WSP Place, an Edmonton landmark that our team has reimagined. Its lighting design communicates with the city, changing colour to reflect current events, and add a glimmer of life to dark winter streets. It reminds us that we are connected.
We are grateful for all that we have learned this year: to care for each other more deeply, and to work closer than ever, even when we're physically apart. We're confident that together, we will rise out of these trying times more resilient appreciative and unified than before.
2021 offers a glimpse of hope, of fresh life sprouting from the ashes. The Manasc Isaac team is excited to announce that big changes are on the horizon for our firm in the coming year! As challenging as 2021 might be, we remain hopeful and excited about the future - and we hope you will travel with us on our journey toward regenerative architecture – and a happier, healthier future.
Happy holidays from the whole team.