back to news
March 31, 2016
Mosaic Celebrates Completion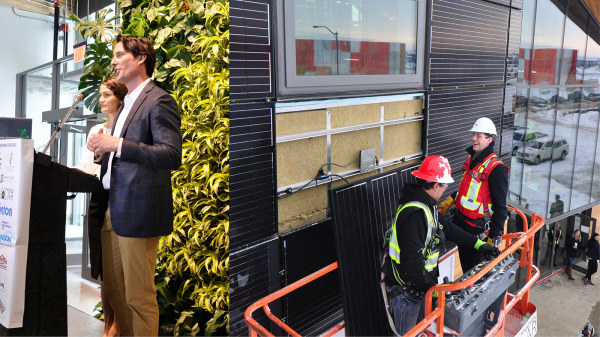 Today is a huge day for the entire Mosaic team, and all of the project's partners! Celebrating its completion, The Mosaic Centre For Conscious Community and Commerce welcomed many guests including Mayor Don Iveson, who installed the last solar panel on the building.
Aiming to be the first net-zero commercial building in Alberta (also targeting the first LEED® Platinum structure in Edmonton, and aiming to become the first Living Building Challenge petal-certified building in the province), Mosaic represents a progressive and sustainable step forward for architecture in Edmonton. Pushing the limits of Integrated Project Delivery, Mosaic was completed ahead of schedule and on budget – no small feat given the lofty goals and ambitions for the project! Working closely with the project's client (The Mosaic Family of Companies), our contractor (Chandos) and our trades, Manasc Isaac counts this journey as an incredibly rich and important one for our team.
One of the most interesting components of this project's progress is the transparency that our client was willing to provide, letting the public know how each step of the way went, whether good, bad or ugly. The project's blog features candid contributions from diverse perspectives including client, contractor and designer. Be sure to check out Mosaic's story, because this building is an absolute game-changer for all involved, and the community at large.
The event was covered by several local news outlets – check out the links below to learn more!
Metro News: First-ever net-zero office building opens in south Edmonton
Edmonton Journal: Mosaic Centre sets new bar in green office buildings
Edmonton Sun: Edmonton's Mosaic Centre for Conscious Community and Commerce is the world's most northern net-zero building
CTV [Video]: Net-zero building ready to open