back to news
April 7, 2016
Our New Bucharest Studio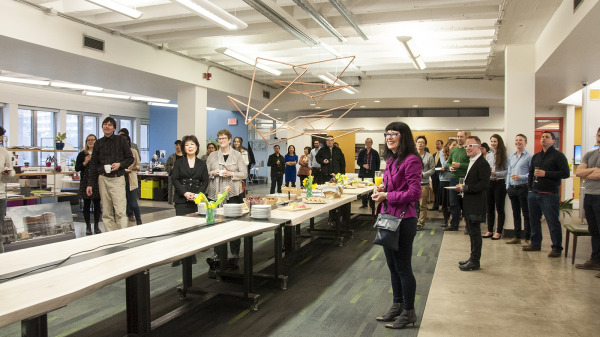 On March 24, Manasc Isaac launched Latitudine 53 by Manasc Isaac, our new studio in Bucharest, Romania! Our mission to Export Edmontonness has officially begun.
We'd like to thank our many friends and family who attended the L53 launch parties in Bucharest, Edmonton and Calgary. Special thanks to Edmonton City Centre MLA David Shepherd who took the time to celebrate with us. All of your support means the world to us. We can't wait to open this new chapter for Manasc Isaac, on the cusp of our 20th birthday!
The hot question of the day was absolutely "Why Bucharest?" Well, Bucharest is a city that shares a lot in common with Edmonton: it faces the challenge of addressing aging building stock, chock full of communist era concrete structures that are not sustainable, beautiful or comfortable. The lessons that the Manasc Isaac team have learned over the years in Alberta have given us expertise in this area, and we are excited to begin transforming the Bucharest built environment and make it more healthy, engaging and beautiful.
Stay tuned for more news about healthy, engaging, sustainable and beautiful spaces transformed by our Bucharest team.
On the topic of news, some great coverage of our Bucharest launch took place, following the event. Check out the links below!