back to news
June 7, 2023
Reimagine Honoured With Emerald Award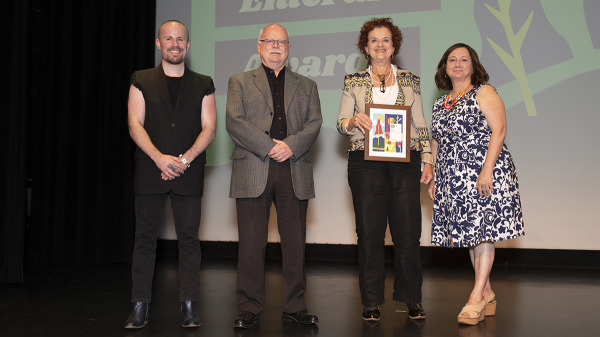 Since 1992, the Alberta Emerald Foundation has recognized organizations and individuals across all sectors, for raising the bar on climate change and environmental issues, through its annual Emerald Awards program. It is widely considered the top sustainability award that can be earned in the province.
This year's ceremony took place on June 7, 2023, and was attended by Her Honour the Honourable Salma Lakhani, lieutenant governor of Alberta, His Worship the Honourable Amarjeet Sohi, mayor of Edmonton, and many other dignitaries, industry thought leaders and sustainability champions.
We are thrilled to share that Reimagine Architects was named as the winner in the "Business" category at the 32nd Annual Emerald Awards, recognizing its 26-year legacy of joyful journeys toward regenerative architecture!
Chosen for its long history of green building "firsts," including the very first LEED certified project in the province, as well as its first LEED Silver and first LEED Platinum commercial projects and the first net-zero commercial project in Alberta, Reimagine is grateful for this recognition, and commits to fulfilling its ongoing mandate, to create beautiful spaces that tread lightly on the earth.