back to news
May 12, 2016
Sprucing Up The Avenue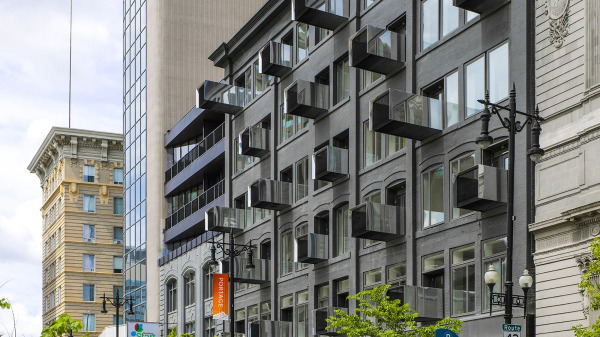 The birds had brains. But after taking up residence in two turn-of-the-century, derelict buildings for years, they were unceremoniously evicted when deeper-thinkers had designs on their mothballed downtown digs.
Today, The Avenue on Portage houses birds of a different feather – in 75 apartment units for tenants and a 22,500-square-foot ground-level commercial space that's occupied by Manitoba Start, a non-profit organization serving new immigrants to Winnipeg.
Colin Neufeld, with 5468796 Architecture and the project's principal, is proud of the final product lauded by many as an architectural icon, a striking addition to the city's centre. But he concedes it took looking with some imagination at the boarded-up Avenue and Hample buildings – now a single entity – to make it happen. "Essentially, we had to walk through the building with hazmat suits," he recalls of his introduction to the project. "You literally were knee-deep in pigeon droppings."
The firm was approached in 2010 by a developer looking for someone to reimagine the buildings, to breathe new life into the city-owned structures that had survived the wrecker's ball numerous times. "We thought it was a great project, a great location and a building that really needed some excitement," Neufeld says. "I'm certainly proud to be part of it."
After structural remediation to make the buildings safe, crews then went about renovating the interior, removing partitions, elevators and staircases. While the three-storey Hample building was built "like a bomb shelter," its wood-framed neighbour, with all six of its floors, was in need of extreme upgrading.
Rick Hofer with Hofer Construction, shortly after completing a successful 43-unit warehouse refurbishment nearby with Neufeld, was approached by the city, asking if his company would be interested in refurbishing – an understatement, to be sure – the sad and decrepit Portage Avenue buildings. "At first, we didn't even want to think about it," Hofer says. "It looked 10 times worse than the building we had just done. It was just in such a state of disrepair." He decided to give it a second look, and soon Neufeld and company were on board.
Hofer bought into the lofty vision to transform the buildings, which had become a blight on the city centre, but it took some time. "Everybody thought I was crazy," he says. "I always thought, 'Let's just see how the building is. If we rip it apart and we still ended up with good bones, then it's a go.' If you have a good building, if that's the case, then it's off to the races; you already have the property, the foundation and the walls."
Hofer says the job was challenging from the start. "It had OK bones but we had to fix the bones," he says. "Let's put it this way: we had to use a lot of casts and splints."
At one time, Portage Avenue had many mixed-use buildings that were abandoned due to urban sprawl. But over recent years, Winnipeg's downtown has seen quite the transformation, says Stefano Grande, executive director for Downtown Winnipeg Biz. With millions of dollars in public-sector cash flowing into developing housing on the nearby waterfront, there has also been the influx of restaurants, hotels, post-secondary campuses and the MTS Centre, home of the Winnipeg Jets and a popular concert venue.
With an influx of about 4,000 residents in recent years, there are now about 16,000 people living downtown, Grande says, noting The Avenue on Portage is simply another success story. "The Avenue building has been in the dark for about 15 years," Grande says, clearly thrilled with its newest incarnation. "If there was ever a silver bullet to revitalize downtown, it is people living downtown who, in turn, spend money downtown and are extra eyes and ears on the streets."
The project is not only a coup for downtown development, but it is also philosophically pleasing, by repurposing buildings that have housed everything from billiards to bowling lanes, a kung fu school and retail in the past. "We have a good mix of old and new," Grande explains. "Preserving our history and celebrating contemporary architecture – it's one of those buildings tourists will take photos of."
He appreciates the building and its original brick exterior, rooftop patio garden, beautiful original marble staircase and unique balconies, which showcase the new life within and extending from the building. "You see it when you have the Christmas parade and all the residents come out on the balconies – that's what we want to see, people enjoying the urban environment downtown," Grande says. "It's a very contemporary feel."
While stellar on its own, the project also contributes to the core's vibrancy. "It's dramatically different than it was 20 years ago," he says of the downtown. "It's not a boom like in Calgary or Vancouver but we are a very stable market and there has been steady growth."
Neufeld says the last 15 years have been "transformative to the downtown" and he is pleased this project could help in that continued evolution. "It needed an adventurous spirit; it was aproject that needed someone who could see past the building's derelict past," he says. "We are young and stupid and optimists and believed it could easily be a great building."
Neufeld says the buildings' reimagining was beneficial in many ways. First, it's an environmental win, given the project diverted building material from the landfill, and second, there's the significant salvaging of Winnipeg's history. "It's important to save it from the perspective it's from the turn of the century, on one of the most famous streets, two blocks from Portage and Main and has been there for the lasthundred years," he says. "They were nothing terribly sexy, just office buildings but in their heyday probably occupied 80,000 square-feet of commercial office space in downtown Winnipeg," he says. "They are part of our fabric. And our city is dying for residential development in its core."
The positive impact of the retrofit on its surroundings is undeniable. "It's a block away from the arena where the Jets play, having this residential infill says we are not a vacant city," says Neufeld. "It was an empty building for a decade – that sends the wrong message. Everybody knew it was full of pigeons and parties and to overcome that we thoughtit needed a big statement – to give it a complete makeover."
That statement seemed to work, given the tenants flocking to the building's suites, which range from 400 to 1,000 square-feet, one block west of Winnipeg's most famous corner: Portage and Main. The building now features a salvaged staircase, punctuated by marble and a wrought iron railing and skylight at the top – in an O-shape so that someone looking over the railing on the ground floor can see all the way up to the top floor.
Inside boasts 11-foot ceilings and big windows, while the exterior is painted a dark grey over original brick. The balconies incorporate the old building with the new – the idea being to push out from the inside and announce "new life" to the city. Balconies of different sizes are randomly scattered along the face of the building, built through the original openings. "They represent the heritage projecting out of existing openings, so that's pretty cool," Neufeld says.
They had to apply for encroachment on city property but there was "significant public encouragement," Neufeld says. "We probably encountered less opposition than we would have if we were just proposing other developments. There was an appetite to work with us."
Of course, given Winnipeg's notorious winters, one safety concern was the snow and ice falling to the street below – easily eliminated by construction and design of the balconies which have transparent steel grated floors preventing any buildup. The mirror-finish aluminum south-facing canopy angles outward 13 feet from the face of the Hample side before returning to meet the edge of the Avenue. The effect is a unity of the two facades, and a de facto safeguard against potential ice and snow falling from balconies above.
"The city has given you this building and given you money to develop, so you have to give the city something," Neufeld says of the budget constraints. "They really wanted it to be an important piece on an important street – not just a building which made money for the owner. They were game, but said, 'You only have this much money,' " Neufeld says. "There wasn't an open chequebook. It got built for $12 million; that's where the love comes in."
Hofer says the project probably spearheaded a lot of future downtown reconstruction. "Nobody believed it would work. Numerous architects have tried and it just didn't work either due to a lack of money or expertise. It needed someone with this crazy vision," he says.
"All of a sudden it's an iconic building from a building that was empty for 11 years. It has numerous awards from architects and peers. To take a building like that and turn it around – it's awesome to actually see people in it. That was our vision," Hofer explains. He also says there was somewhat of a "spiritual" approach behind the reimagining. "I believed it should have been torn down; you walked through that place and all you saw was mould," he says. "What really inspired us is we met a fellow about a quarter of the way through construction who intended to buy the Avenue building. He believed in it," he says, adding the man hesitated to do so due to a lack of parking.
As it happened, the buildings had enough frontage for a ramp to allow for 38 parking stalls, Hofer says. The project, although created with passion, was hardly a get rich quick venture. "I only got my wages," says Hofer, who owns the building with his partners, adding, "I am making my money now."
---
Text: Nadia Moharib
Image: 5468796 Architecture