back to news
December 8, 2022
Storytelling with François Paulette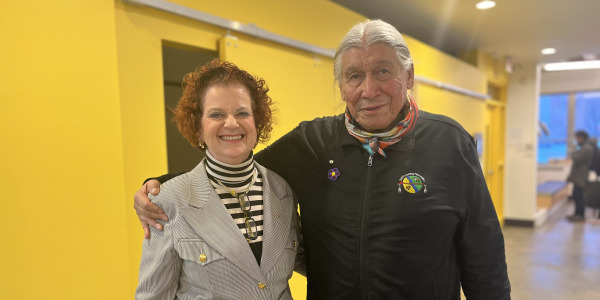 On December 7, 2022, our Edmonton team enjoyed a special privilege: some time with Elder François Paulette, a Denesuline, and former Chief of the Smith's Landing Treaty 8 First Nation.
François' wisdom was shared through 90 minutes of storytelling, beginning with his foundational perspective, which comes from living in nature.
"The Creator made everything. Everything has its purpose. Everything is alive."
This holistic and integrated worldview went on to shape all of Paulette's varied work: as a draftsman, as a Chief, and as a negotiator. In 1973, along with 16 other Chiefs, he challenged the Government of Canada to recognize treaty rights and aboriginal title in the landmark Paulette case, which resulted in the successful protection of the Slave River from hydro-electric development. 2023 will mark the 50th anniversary of filing the caveat.
Paulette lives in nature, "the bush," as he lovingly calls it. His home is both built from and heated by wood. Telling a story about being in the North, he remembers noticing that all of the community's A-frame homes, heated by oil, weren't connected to the land. He observed that he could have built homes from the plentiful rocks in the area.
"We have to go back to being self-reliant, where we construct our own homes," he suggests.
This need, Paulette points out, is critical to avert further impact from climate change. He sees the world edging closer to crisis, in physical anomalies in the creatures that live in it, and in the shifting behaviours of the muskrat, moose and beavers.
"Because I live in the bush, I see it. It's different. Something is changing."
Paulette reminds us that Indigenous people hold the key to averting climate change: a step back from the application of fossil fuel. Noting the impact that the tar sands of Fort McMurray have had on the land.
"The work that you do as architects, draftsmen… you need to think about clean energy. Think about all the life around you: the sun, firewood, energy. It's been there forever."
We are very grateful to François Paulette for sharing his time, wisdom and direction with us, and will carry his advice with us as we continue our joyful journey toward regenerative architecture.