back to news
May 12, 2016
Take It Outside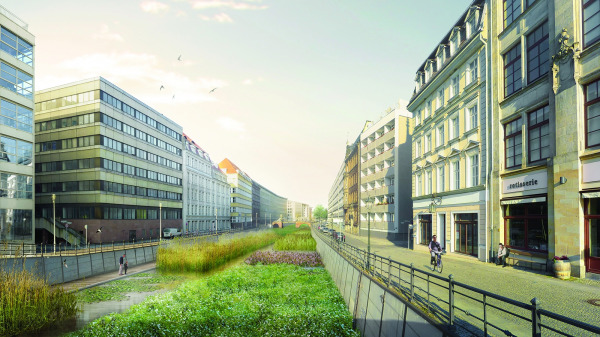 Berlin is Germany's largest city with a population of about three-and-a-half-million. Yet for all of its size and numerous residents, there is a noticeable lack of activity from locals in the German capital's historic city centre. Yes, there is a strong presence of government buildings and museums, but few Berliners actually live and spend time in that area of the famous city.
Jan and Tim Edler have a distinct vision for their home, and one they hope will ultimately transform the face of the city. The two Berlin-based brothers, founders of realities:united (a studio for art, architecture and technology), thought of a way to bring Berliners back to the core – by creating a 750-metre long pool within a side canal of the Spree River that makes its way through the capital.
Flussbad Berlin would be the longest natural pool in the world. And while the idea may seem far-fetched, the Edlers have spent significant parts of the last 17 years making this novel vision a reality.
"That arm of the river (between Schlossplatz and the Bode-Museum) has no technical function," says Jan Edler.
"Until the late 1800s, that river arm was used for transportation and ships, but in 1894 the ship route moved to a broader parallel river arm. Since that time, there has been nothing going on there. That is an important pre-condition."
The brothers saw a 1.5-kilometre stretch in the otherwise densely populated Berlin where nothing was happening. "As in every other capital city of the world, such immense unused spatial potential seemed to be economically unpinning," Edler says. The question that the pair had to answer was: how could they realize the potential for that unused portion of the Spree and the land around it?
"What triggers us most is the idea that the city centre should be a place for everyone, for all Berliners and not mostly a place of representation," Edler says. "With comparatively little residential use, it is typically empty at night with little going on. We would love to see the city centre understood as a resource for all of us."
The Edlers' philosophy as artists and architects is to use an existing space and transform it. This is a theme in much of their studio's work. But the idea for Flussbad actually evolved from an emerging change in the artistic world of their city. When demolition of the Berlin Wall began on June 13, 1990, it marked the crumbling not only of a physical barrier that had divided the city's East and West ends since 1961, it also launched a new era in freedom of thought and expression. The door was open for forward-thinking Berliners and the Edlers were among those who prospered from a creative standpoint in post-wall Berlin.
It was in this new and exciting climate that the idea for Flussbad was conceived.
"Tim and I were involved in an art association named Kunst und Technik, a group of nine people," says Edler. "We had people bored of office life and coming from universities to do conceptual work. Projects to make use of empty space were typical after the Wall fell and Flussbad was one of the ideas we had."
Edler says there was huge potential to what he calls "the sleeping city" that was Berlin of the day. "This is how the project evolved," he says. "It was a nice idea but people thought it was utopian."
The Edlers didn't get much press, though one journalist did print that, if completed, Flussbad would indeed be the longest pool in the world at that time. This, at least, gave the project a hook. By September of 1998, Jan and Tim completed a publication about Flussbad. The idea then went dormant, and a couple of years later, they founded their studio, realities:united. In 2010, a full decade after founding it, a friend of the Edlers approached and encouraged them to enter Flussbad in the Holcim Awards, an international competition that promotes sustainable construction projects or urban developments.
"We thought he was crazy," says Edler. "The project was so old. No one would be interested." They entered. And, up against 6,000 entries from all over the world, they won. Not just the US$100,000 main prize in the European division, but also the US$50,000 bronze award in the world division.
The atmosphere in Berlin had changed substantially and suddenly, there was global recognition of Flussbad and the potential of what could happen on the Spree.
"It's interesting because you normally get awards and recognition for projects that have been realized and completed." Edler says. "Instead, the Holcim Award tries to foster ideas and helped a lot to kick-start the vision. We wanted to make use of this energy."
Since winning the Holcim Award in 2011, the scope of Flussbad hasexpanded dramatically. Fifteen people founded Flussbad Berlin in 2012. The non-profit association, responsible for all of the project's communications, now has 400 members and supporters, including government. Last November, Flussbad received a huge boost when the project secured a staggering grant of four million Euro through a new federal funding program. Flussbad now has a team of people working daily to foster the public and political debate on how this project will benefit Berlin for future generations. Edler says there will be an ongoing mixture of discussion, campaigning and exhibition, with the creation of an "embassy" in the centre of Berlin where information on Flussbad will be made available.
"It is a simple project on paper but very complex in reality," he says. "For example, the river does not belong to Berlin. It belongs to the federal government and rivers are regarded as a highway for ships. The usage of that part of the river where the ships don't run needs to be rededicated.
"Our job is to find out how things need to be done. These are quite exciting times."
According to Edler, two of the key issues are concern for the ecology of the river and maintaining water quality. That portion of the Spree would become the closest natural resource for swimming for approximately 500,000 Berliners. Builders would need to create a series of staircases leading down to the river and the proposed filtration system would keep the water at safe levels.
"It's a catalyst for people to understand the importance of having clean water," says Edler. "They feel it. It's a river they can use and not just for freight. It's also a catalyst for sustainable behaviour and political actions."
The hope is that Flussbad can ultimately become not only an amazing destination for Berliners to enjoy, but also a blueprint for a best practices project, one initiated by local artists with the best interests of their own city and citizens at the forefront. Despite the positivity, there have also been many challenges – and some detractors.
"Those people against Flussbad believe the city centre should be a place of contemplation and not somewhere that naked people go swimming," Edler says with a smile. "Yet we received this funding and feel that there is an incredible energy building. There are so many people who really like the idea and they get excited about it becoming a reality. It's great motivation for us.
"I'm hoping that I will still be young enough that I can go swim there when the project is realized."
---
The Water Centre is a mesmerizing structure that is home to the City of Calgary's water resources and water services staff. The inspiration for the innovative building was the actual movement and translucency of water itself, a design worthy of many accolades for Manasc Isaac Architects, the firm responsible for its creation.
The Water Centre opened in 2007 and the following year a plan was hatched to enhance the building in order to address the obligatory snow accumulation atop structures in Southern Alberta. The outdoor staircases and walkways required a shield to protect the people who use them.
"We talked at length as to how we would handle the ice and snow coming off of the roof," says Vivian Manasc, principal at Manasc Isaac Architects. "We accepted that there would be a certain amount and we would have to watch out for it.
"After discussing different strategies, we decided to look at a canopy solution."
Work on the canopies took about two years and was completed in October of 2012, but the result has been both a functional and aesthetic success. Falling snow and ice is no longer a concern at the Water Centre, thanks to the protective barrier constructed and the translucent look itself is beautiful, particularly when lit up in the evening.
"We didn't want the space to be dark,"says Manasc. "The canopies are made of glass so there is good light coming through in this sheltered outdoor space.
"Integrating the canopies architecturally was something we set out to do. It's working well – and has achieved the goals we set out."
---
Hurricane Sandy's impact is still being felt along the Eastern Seaboard. The devastating super storm, born in the Caribbean back in October of 2012, ploughed through the East and left approximately $65 billion of damage in the United States, with many lives lost. Of the people who died, 43 were in New York, where storm surges in Manhattan's Battery Park reached as high as 14 feet.
The City has taken initiatives to ensure a better outcome when the next massive climate event strikes. In its 445 pages, A Stronger, More Resilient New York outlines how the Big Apple will be prepped to reduce the vulnerability to another super storm. The comprehensive plan produced by the City will strengthen coastal defenses, upgrade buildings, protect infrastructure and services and make neighbourhoods not only safer but also more vibrant.
The United States Department of Housing and Urban Development held a resiliency project competition as part of its disaster aid allocation to jurisdictions impacted by Sandy. A New York proposal, known as The Big U project, secured $335 million to go towards developing a protective system around Manhattan. Big U would stretch for 16 continuous kilometres of low-lying geography in a dense and vibrant, but vulnerable urban area. On top of shielding the city from flooding and storm water, Big U will offer social and environmental benefits to the community.
The proposed Dryline project, led by the Bjarke Ingels Group (BIG), will fortify and enhance three separate but contiguous regions (or compartments) of the waterfront. Bridging Berm on the Lower East Side gives vertical protection, while also offering a beautiful setting with accessible routes in a park packed with salt tolerant trees and bushes; deployable walls between the Manhattan Bridge and Montgomery Street, attached underneath FDR Drive can flip down to provide protection from floodwaters, yet the idea to decorate them from local artists makes for an aesthetically attractive area; and Battery Berm would weave an elevated path around Lower Manhattan, with upland knolls and unique landscapes that will enhance the public realm and protect the financial district and critical transportation infrastructure.
Plans for this year include land surveys, inspections of waterfront structures, tree inventory, bridge inspections and pedestrian and bicycle traffic studies. The City also wants to hear what those who felt the full power of Sandy have to say.
"Community input is absolutely critical throughout the planning, design and construction," says Amy Spitalnick, a representative from the City. "It is especially important as the project scope is developed over the next 12 months. The City will be speaking often with those who know their community best: the residents."
---
Recreation space within cities worldwide is at a premium. Especially in Lima, Peru. The World Health Organization states that every person living in a city should have eight square metres of recreation space to enjoy. But in Lima, that number was just shy of two metres per person.
Peruvian architects Genaro Alva, Denise Ampuero, Gloria Andrea Rojas and industrial designer Claudia Ampuero took a proactive approach to address that fact. In 2010, the group created Invasion Verde (Green Invasion), an uplifting project that transformed Lima's concrete-filled city centre into a unique urban park.
One of five artistic interventions chosen from 137 proposals submitted for Lima's Great Week, Invasion Verde drastically changed the look of the Pasaje Encarnacion with an injectionof grass-covered mini hills and recycled tires, some containing planted flowers and others with grass tops and stool legs to make a cool, comfortable sitting place for those looking to take a break. The artists also used recycled plastic for sculptural pieces throughout the park, which also features drought tolerant plants.
The message this group made in Lima was clear – yes to more green outdoor space.
---
Text: David M. Dicenzo
Image: realities:united